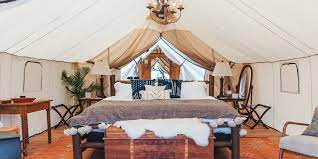 Oregon is quickly becoming a hot spot for glamping.  Glamping is defined as the combination of the glamorous comforts of home with the ability to experience the great outdoors and camping.  There are many glamping places to choose from if you are in an RV or if you want to rent a cabin, tent or yurt.  The coastal areas average temperature of around 50 degrees during the day and it gets into the 40's in January.  There is not a lot of participation but most days are cloudy.  For a warmer climate you can go into the lowlands of the middle Rogue, Umpqua and Willamette rivers.  The highs in July are in the low 70's but it gets cool in January where it is in the 40's.  There is a rainy season which is October through April where they get 35 to 40 inches of rain.
Expect short dry summers in the Cascade Range where they get a ton of precipitation from rain to snow.  It can get below 32 degrees in January with temperatures of 50 to 60 degrees in the summer.  In the north-central part of Oregon does get a fair amount of participation year round of about 10 to 20 inches.  Expect July to be in the low 70's and January to be in the low 30's.
Panacea at the Canyon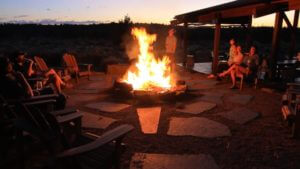 Panacea at the Canyon is located in Central Oregon and has 40 beautiful acres of high desert land that is great to explore.  It is considered a 5-star glamping resort that is surrounded by the Wild and Scenic Crooked River Canyon and the Crooked River National Grasslands.  They have a  pool that is surrounded by nature that is fantastic to spend the day relaxing.
Panacea offers a Spa and Wellness that can help people indulge in their all-natural spa with holistic healing treatments.  You can enjoy hot air balloon flights, meditation, horseshoes, archery, lawn games and yoga all located on the property.
The glamping tents are clean and comfortable and set apart from other tents to provide privacy.  They come in two sizes, King and Queen.  They do have onsite dining available with a light breakfast and pizza night on Saturdays.  There are restaurants within a 10 to 20 minute ride.
Oceanside RV Resort & Campground
Oceanside RV Resort & Campground is part of the the Sun RV Resorts and is located in Coos Bay, Oregon.  It is considered a year round glamping resort for people of all ages.
In addition to RV sites, they offer glamping cabins and all sites are a short walk to the beach.  There is a lot to do in the area from exploring tide pools to crabbing and fishing while you can enjoy the smells and sounds of the Pacific Ocean.
Day trips include wineries, museums, hot air balloon rides, whale watching and more.  They are a pet friendly park where dogs are even welcome on the beach.  Amenities include fire pits, a store, a dog washing station, WiFi access, beautiful clubhouse, laundry facilities as well as restroom and shower facilities.
Treehouse Treesort LLC
Treehouse Treesort is located in Cave Junction, Oregon and offers a truly unique experience in glampting.  It is located on 36 acres of land with lush grasslands and forests.  It is located next to the Siskiyou National Forest which is popular for hiking and bike riding.
Michael and his family had a dream in mind to build a treehouse that could be a bed and breakfast that catered to those who loved glamping.  It took eight long years to get the permits to build the place and they originally could only have friends and family as their guests.  So, of course, they made it a point to make everyone who came to visit become a friend.
They offer four different zip lines with the original one called Mountain View Zipway.  The Mountain View Zipway starts out slow but as you get higher you start moving fasters.  The Canopy Tour offers one of the largest lines going from platform to platform.  The Outback Adventure Tour is considered a hybrid it starts out slowly then there are cable systems with average heights that can be 40 to 50 feet, there are two challenge bridges and 50 foot rappel down to the ground.  The Tarzan Swing consists of a 55 foot pendulum swing!
Other activities include horseback riding, hiking and hosting conferences.
Crater Lake Resort and Store
Crater Lake Resort and Store is located near the beautiful Crater Lake.  Not only do they offer historic cabins, creekside cabins, glamping tents and lodging they also have RV sites with full hook-ups and RV sites with partial hook-ups.  Fort Creek is a pristine creek that runs through the property and can be enjoyed by visitors with their free canoes.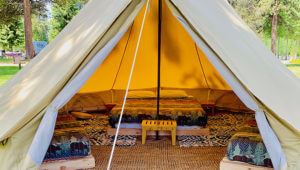 There are great trails to hike on the backside of the property that has covered and floating bridges that are a joy to cross.  They are kid friendly and have a playground, kids bicycles and a large tree swing set all at no cost.
Each cabin has its own bathroom and kitchen and for those who are in a tent site, RV and glamping have access to clean showers and bathrooms as well as a laundry facility.
Bay Point Landing
Bay Point Landing is located in Coos Bay, Oregon.  They are the 2020 winner of best glamping camps plus lodges.  This glamping destination site is surrounded by the amazing beauty of the Oregon Coast.
For first time people who are exploring glamping they offer modern cabins that are family friendly with all of the amenities of home.  For glamping people who have always wanted to try sleeping in an Airstream, they can accommodate up to four people that has a private bath and shower.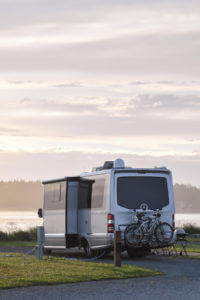 For those who like the glamping in the RV lifestyle, they have 160 campsites over a mile of bay front beach.  Full hookups are available with 50/30/20 amp, sewer, cable and water.
While glamping, you will never have it so good.  Their amenities include a kids den, heated, indoor saltwater pool, fitness center and activity room.  There is a bocce ball court, kids playground, horseshoes and a community fire pit.