Our Day Trip to Ghost Town Shaniko, Oregon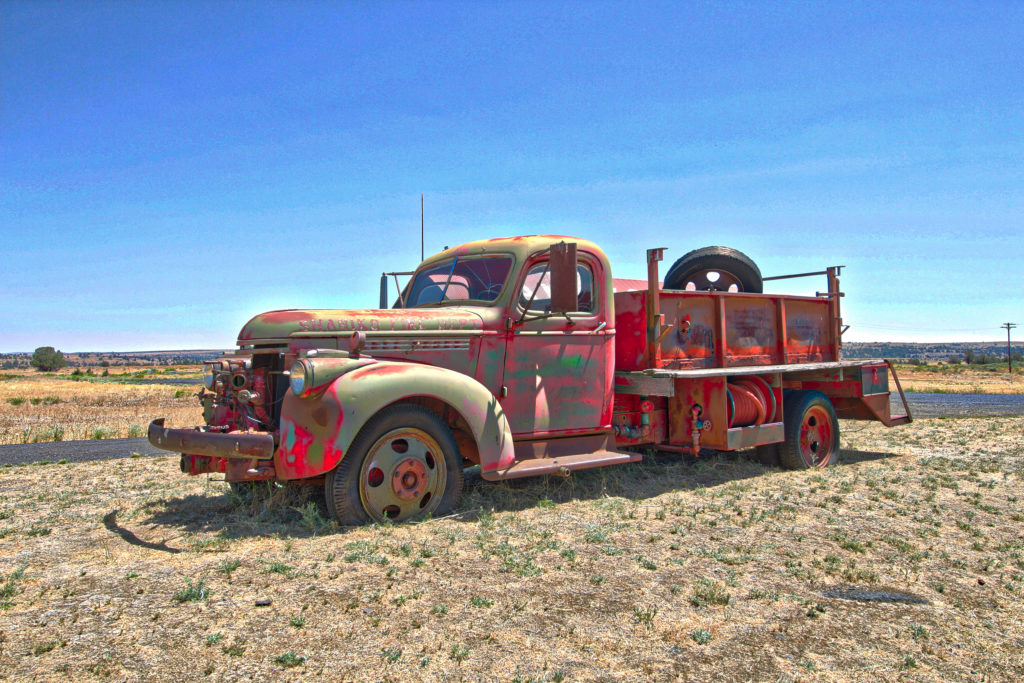 My husband and I were starting to get a little stir crazy in our motorhome.  The afternoon temperatures have been in the low 90's and we are pretty much house bound once it goes over 88 degrees.  JR saw a recommendation to visit the authentic ghost town of Shaniko which was about an 80 plus mile trip north from where we are in Bend, Oregon.
So, we put together some bottles of water, got a bag of dog food for the puppy and headed out about 10:30 last Saturday morning.  The trip was pretty smooth until we got close to Madras where the traffic was down to two lanes and the lane traveling north was only going about five miles an hour.  We looked at our map and it said the turn-off to Shaniko was only about seven miles up the road, so we endured the traffic until we got to our turn-off.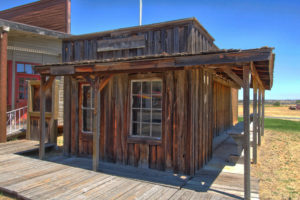 The road going to Shaniko is only two lanes, but there are plenty of passing lanes should you get behind a slow moving vehicle.  While the traffic was not heavy, we could see that the road is pretty well used.
I must say that when we arrived in Shaniko, we were less than impressed.  Having been raised in Nevada, we have seen several ghost towns over the years.  One of our favorite towns was Virginia City.  Virginia City is not really a ghost town, but it does have rustic buildings with lots of memorabilia and sees a lot of tourism.  Every year they have camel and ostrich races that are crazy to see.  
We decided to stop at this ice cream shop for ice cream but wound up getting a polish dog and a root beer.  By then it was about 12:30 so we were pretty famished.  After feeding ourselves and our dog, we decided to get JR's camera and tripod and walk around the area.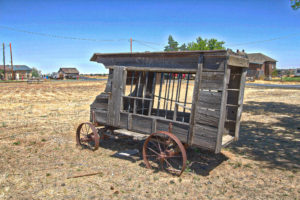 We were really glad we did as we found the buildings amazing and the equipment and cars that are on display were really cool.  
The history of Shaniko is pretty fascinating as it usually is with these small ghost towns.  The population in 2010 was 36 people counting 11 families and 17 households but in 1910 the population was estimated to be about 495 people.  Shaniko covers only about half a square mile.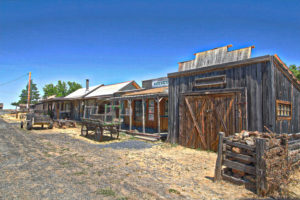 The town was originally named Cross Hollow and was settled in 1862.  Gold was discovered nearby, and it began to draw European Americans.  Camps were spread out all over the area and by 1867, the complaints of hostile Indians and the fear that the gold would be robbed during transportation, Oregon, which was now a state, got a grant from the US government to build a road from The Dalles to Fort Boise in Idaho.  
This road became a major passageway for pioneers and homesteaders who started claiming land in Central Oregon.  August Scherneckau decided to become one of the early settlers after the Civil War.  He was appointed the postmaster of then Cross Hollow in 1879.  The name of the city changed in 1901 when it incorporated and renamed Shaniko (that is how the early Indians pronounced Scherneckau's name). 
The town's population soared from 72 in 1900 to 495 in 1910.  That is because it became the Wool Capital of the World.  They produced sheep, wheat, wool and cattle with no competition east of the Cascade Range.    It is said they had the largest wool house in the state producing two tons in 1901.  The area was so fertile that also in 1901, they filled 400 railroad cars with livestock.  The wool market was very profitable, and they made a total of five million dollars in sales in 1904.  Shaniko had a railroad terminus that went to Biggs Junction where it ran into the Columbia Southern Railway which was a subsidiary of Union Pacific Railroad.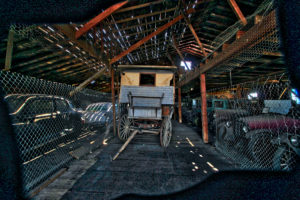 Sadly, in 1911, another rail route was built by the Oregon-Washington Railroad and Navigation Company who was also a subsidiary of Union Pacific.  It was touted as a more direct route along the Deschutes River from Portland to Bend.  This caused a decline in rail traffic in Saniko which caused a decline in their economy.  By 1930, there were no longer passenger trains coming through and it was closed permanently in 1960.  
The town was bought by an out-of-town developer who failed to restore the Shaniko Hotel.   He then sold it to Robert Pamplin, Jr.  One of the reasons they are not able to develop the town is there is a wastewater issue and it cannot handle any large-scale tourism.  The town's local businesses only open from April to September.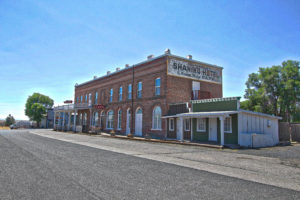 The Shaniko Hotel was built in 1900-1902 by the Columbia Southern Railway.  It stands as one of the largest structures in Shaniko but has been closed for years.  In 1979, it was listed on the National Register of Historic Places.
There is an active gas station in the town as well as the ice cream shop.  The City Hall sells food as well and there is a General Store.  There is also a museum but we did not go in because of the dog.    They get a lot of business from people going North and South because it is a convenient place to stop for a quick bite.  
I would say it was worth the day trip to check out.  But if you go, don't just drive through.  Get out and walk the area, it really does make it come to life.