RV Detailing – How Much Does it Cost?
My husband and I purchased our RV in June of 2018 and went on the road full time in August of 2018.  We headed to Austin, Texas because our son and his wife were having a baby towards the end of August.  We stayed in a RV park that was right on the freeway and quickly noticed how dirty our RV was getting.  We decided to wash it ourselves and found it was not an easy task.
Because we were staying right on the freeway, we decided we did't want to get it cleaned until we moved our rig to a more rural area.  After three months in Austin, we headed to South Padre Island, Texas where we found a RV detailing company who said they would wash and wax not only our RV but our jeep as well for $165.00 dollars.  Now, having said that, the prices will vary from city to city and much of it depends on the competition, how big your RV is and how often dirty it is – bugs take a little more work to remove.
We got quite an education from these people as they took great pride in the cleaning and waxing supplies they used.  They also gave us some tips on how often we should have our RV detailed.  We also learned that each RV park has restrictions on cleaning your RV and for the most part do not want individuals to clean it themselves, they want a professional company to come in and do it for you.
RV detailing on the outside
Again, we recommend you have a professional detail the outside of your RV at least once a year.  A good RV cleaning service will first spray down a section of the RV with water then spray it again with a cleaning products that will break down grease and dirt.  For the most part, they will work in teams in sections of the motor home scrubbing it down and rinsing it off.  They will really get into the wheel wells and tires as well.
Most mobile RV detailing services will use a soft padded cloth to wash the RV and hand mittens to get in the crevices.  Once rinsed off, they will then hand dry the RV before applying the wax.  They will wax the entire RV as well as the roof buffing off the excess was to give the exterior a superior shine.
RV detailing on the inside
Some mobile RV washers will off to detail the inside of your RV.  They will clean and shine the appliances, get down and dirty with the toilets and clean and detail the sinks and showers.  This is a good idea as mold can grow, especially in the shower, and it is not always possible to remove it yourself.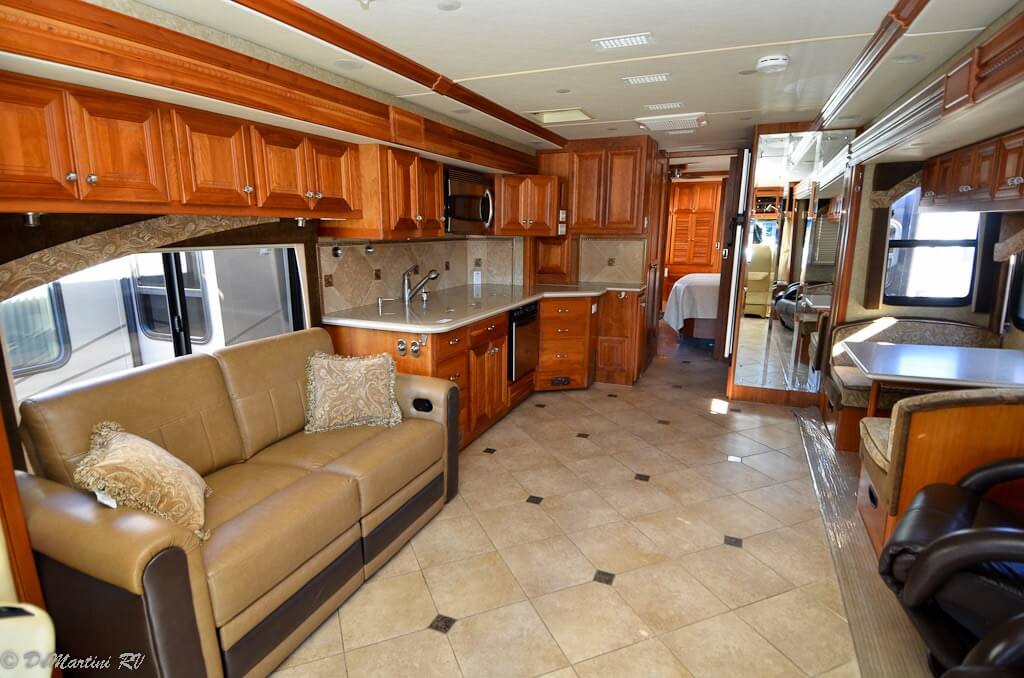 They will also clean the floors and brighten the grout lines if you have tile.  Some will even clean the carpets when it you have a pet that sheds, you know it is nearly impossible to remove all of the pet hair when you vacuum.
Having the inside professional detailed is important as you travel across the country, you pick up germs and molds.  Professionals have the knowledge and the right cleaning products that will remove germs and molds.
We have also had the carpet areas cleaned a few times.  Since the area is so small, it has cost us a little over $100 with the tip and it can take up to an hour to get it done.
The cost of RV detailing may depend on how large your RV is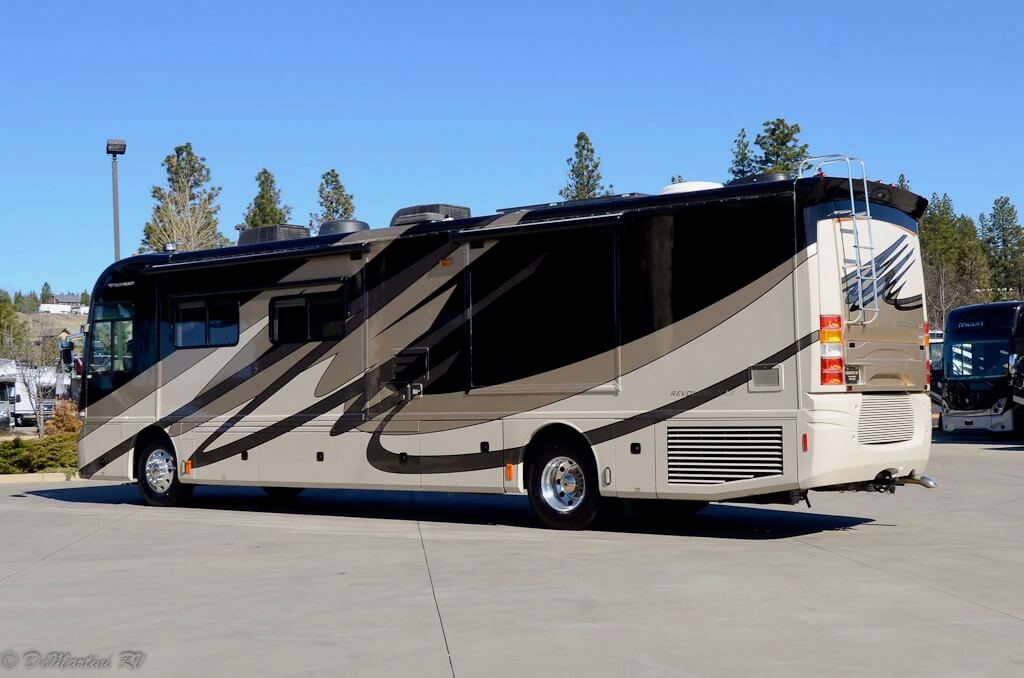 Again, the cost of having RV detailing done varies quite a bit from city to city and the amount of competition.  We have been in RV parks where two or three different companies have knocked on our door to give us a card and an estimate.  But here are some guidelines you can go by:
If you have a really small RV that is a Class C Motorhome or a tow behind prices can range from the low $100's up to $200.
For those people who have chosen to have an RV that is 21 to 27 foot, the cost could go as high as $400.
Larger Class A motorhomes and fifth-wheels, the cost could go as high as $600 or more.
The pros and cons of not using a RV cleaning service
As I mentioned before, many of the RV parks we have been in do not allowing their visitors to clean their RV's themselves.  Some mobile RV detailing services will contract with the RV resort to be only one or two who can enter their park to wash the RV's.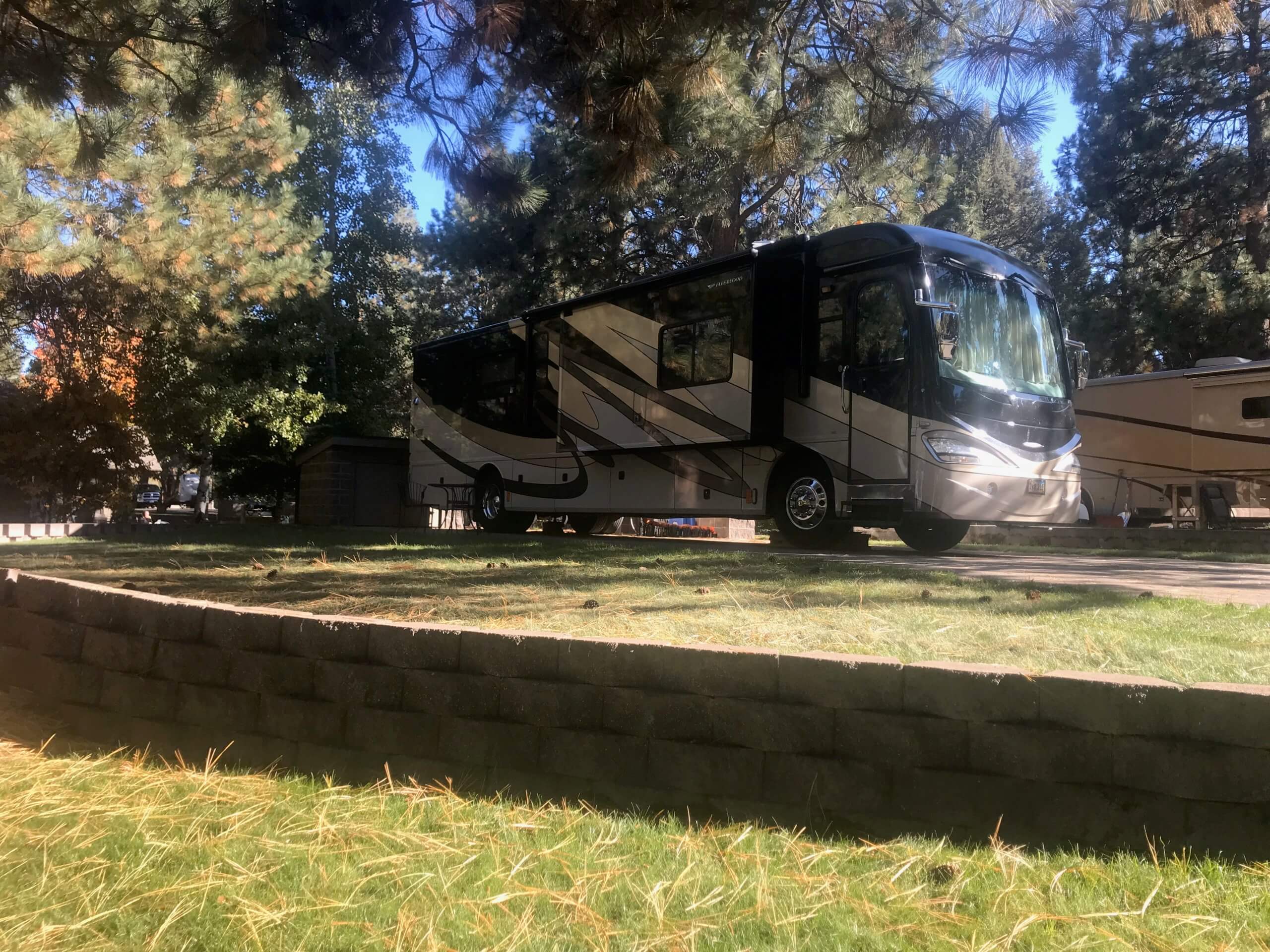 If you insist on doing your own RV washing here are some of the pros:
You will definitely save money in the long run.
You pick the type of cleaning and waxing products you want to use on your RV.
The cons of washing your RV are these:
You have to invest in the chemicals and scrubbing gear which leaves you less space for storage in the RV.
You will have to have a ladder that is tall enough to get to the top of the RV and it must be very steady.  One of the biggest reasons people land in the emergency room is falling off a ladder.
You have to be very careful when cleaning the rooftop as it can get slippery when it is wet.
Water dries quickly in the sun so you will have to go over spots with a wet rag then a dry rag to buffer out the spots.
The physical exertion it takes can be overwhelming.  Especially when you go to wax your RV.
A mobile RV wash company has the supplies and equipment to get the job done faster and many times, better than you can do yourself.
I watched several UTUBE videos on RV detailing to see what type of products the pros use.  Having said that, here are some products that professionals use should you want to clean your own RV.
McKee 3D bug Remover is concentrated and comes in a one gallon container.  Not only does is remove bugs but is effective on tree sap as well.
McKee's 37 MK37-950 Road Kill Bug Scrubber is a honey-combed scrubber that is excellent for trapping foreign particles and bugs and does not scratch the paint.  It can be cleaned and re-used over and over, some say it can be used hundreds if not thousands of times and they are affordable.
AQUAQUEST is one of the best spotless rinse systems that can make up to 400 gallons of deionized water when gives a beautiful spotless rinse.  It is easy to store as it is only 23 inches tall, 16 inches wide and 10 inches deep.  It is easily portable as it has a wheel base and a folding handle.
Ceramic Detail Spray by Technicians Choice TEC582 it can be  used on all surfaces.  It can be mixed with water on a one to one ratio.
The DUSICHIN SFL-001 Foam Canon is a great pressure washer.
Some RV detailing companies use Dawn Dish Soap to wash the RV as it is an excellent products that removes grime and grease as well.  You just need to be sure you rinse it off completely.
Many RV detailing companies recommend using lambswool wash mitts when using a pole to scrub the RV.  Lambswool is soft and does not scratch the surface but must be changed out frequently.
For hand washing, microfiber wash mitts are great to get into the nooks and crannies on the RV.
Chemical Guys makes all sorts of great items for RV detailing.  Their Blacklight Wash is a little expensive but works great on dark surfaces.
They also make a great wax called Wet Mirror Finish.  It contains an antistatic to resists dirt and can actually keep your RV looking like it has just been washed for months.
Using a buffer is important when applying the wax, you want to be sure you apply is side to side and up and down.  It will need to sit for approximately 30 minutes before it can be buffed off.
There is debate on using coatings, waxes, glazes or sealants.  There are two things to consider when applying these items.  One, are they durable?  You need to know how long they last and how it saves the clearcoat.  Two, what are the aesthetics?  Does is provide a visual impact giving your RV a gloss or added depth.
When using a glaze keep in mind it is not very durable.  The aesthetics are good but keep in mind it may not last as long as you would like it to.
Waxing is considered low to moderate in the durability category.  It is very high in aesthetics as it comes from a specific type of palm tree and is called Carnauba wax.  It is combined with various polymers and solvents and comes in all sorts of grades.
A sealant is low to moderate in aesthetics but is moderate to high in durability.  They are mostly made of man made products and are more resistant to UV, heat and detergents.
A coasting is considered extremely high in durability but low to moderate in aesthetics.  They can be described as ceramic coatings, nano coatings or nano coatings.  They offer years of protection verses months and some companies even say they are permanent protection.