South Padre Island is located on the Gulf Coast in the state of Texas.  It is a popular place for Winter Texans, people who are full time in their RV's.  The temperatures in the winter are in the low 70's.  It is also a very popular place for Spring Breakers.  A lot of the Winter Texans will leave before Spring Break because it is so crazy.
There are a lot of things to do when you visit South Padre Island.  Here are some of the most popular things to do: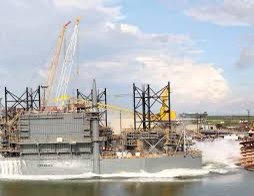 Port of Brownsville Tour
Ever wanted to see what goes on behind the scenes of a port?
The Port of Brownsville is one of the busiest ports in Texas. It's also home to some of the most interesting and diverse industries in Coastal Texas. If you want to learn more about how their shrimp industry works or get an inside look at what it takes for ships to come into port, then this tour boat is perfect for you!  You will also see the beautiful coastline and beaches which will give you an inside into what it is like to live here.  
You'll be able to explore all that goes on behind-the-scenes and see firsthand why they have such a booming area for business. Plus, with tours departing from South Padre Island, you won't have any trouble getting there! So, don't wait – take your next vacation adventure today by booking your tour now! 
Click here now and book your spot on the next available tour!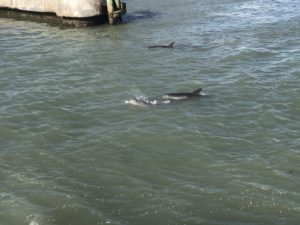 Dolphin Watching Tour
Looking for a fun and educational activity to do with your family?
South Padre Island has a massive population of dolphins around the island.  This is a great opportunity to see wild dolphins up close. Also, at some times of year, the dolphin watching tours come across the gentle and majestic whale sharks in the Gulf of Mexico.
If you're looking for an amazing experience, then the South Padre Island dolphin watching tour is perfect! You'll get up close and personal with these beautiful and intelligent creatures.   It's a great way to learn about ecology and ocean preservation education too.
This tour will be one of the most memorable experiences of your life, so don't miss out on it!
Click here right now to book your dolphin watching tour today!
Paddle Boarding
 

Have you ever wanted to try paddle boarding?

 If you're looking for an activity that's both relaxing and exciting, then this is just what you need. It's also great exercise and provides some awesome views too!  

The bay on the west side of the island has some of the calmest waters off the island.  You will see all sorts of sea life like turtles, jellyfish, rays and fish.  You will need to bring a lot of sunscreen and water shoes as you could be out there an hour or two.

Click here to see the types of paddle boards available.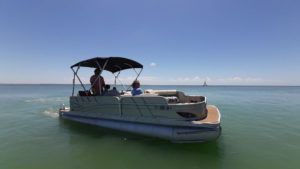 Boat Rental
Looking for a day of adventure?
Renting a boat is the best way to explore South Padre Island. You can take your family and friends out on the water, or you can go by yourself and enjoy some time alone. There are so many things to do in this area! The Laguna Madre Bay has an amazing reef that's just 12 miles north of South Padre Island. It's perfect for scuba diving or snorkeling!
Rental boats are available for any budget.  You can rent a small boat or a luxury yacht.  Boating around South Padre Island will give you great views of the island from the ocean while you enjoy the warmth of the sun on your skin.  If you prefer, you can charter a boat with an experienced guide who can give you interesting facts about the area.  
Rent a boat today by clicking here now!!!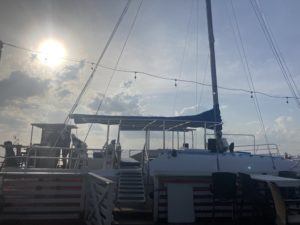 Catamaran Cruise
Looking for a fun activity to do in South Padre Island?
One of the most relaxing things you can do in South Padre Island to take a cruise on a Catamaran.  Catamarans are comfortable and stable in the ocean so there is no sea sickness.  Sailing by day you will see dolphins or you can take a sunset cruise.  Remember to bring a towel and lots of sunblock as you can lay suspended over the water and catch a few rays.
Catamaran cruises are available year round.  The cruise will take you out into the Laguna Madre Bay and will weave through some of canals where you will see some of the most beautiful houses in the area.  Sit back and relax with a beer or a glass of wine and watch the sunset.
Click here to learn more about sailing in a Catamaran.
Fishing
Fishing is a great way to spend time with friends and family.
For those who love fishing, the waters that surround South Padre Island have some of the best fishing in the Gulf Coast.  Some of the fish you can catch are redfish, trout, flounder and snapper.   Some people like to fish off the rock wall in Isla Blanca Park and make it a fun family day to picnic and spend time together.  Reminder – be sure to bring your fishing license.  
You can also charter a boat if you prefer to do some deep-sea fishing.  There are charters that go out for 1-8 hours or you can be out for multi-day trips where you can stay on board the vessel at night and fish all day long.  It is an excellent way to enjoy this beautiful part of Texas.
Book your next fishing trip today by clicking here!
The Beach
Looking for a new beach destination?
South Padre Island is the perfect place for your next getaway. With miles of beautiful beaches and plenty of activities to keep you busy, there's something here for everyone. You can go exploring on one of their many nature trails or take in some culture at one of their museums.  At Isla Blanca Park, there is access to two large beach pavilions that offer beach rental and food concessions.  
If you have an RV you can stay at one of their full hook-up sites that are walking distance to the beach.  They have shaded picnic areas and clean restrooms.  For those who are boaters, there is a boat ramp available.
There are beaches all along the east side of the island where the parking is free (but limited so get there early) and several bars are situated on the beach.  One of the most popular bars on the beach is Clayton's.  They have a huge outdoor patio overlooking the beach, lots of parking and offer entertainment on the weekends.
Parasailing
Have you ever wanted to do something crazy?
Parasailing in South Padre Island is the perfect way to experience all four of your favorite things in one day. It's a thrill-seeker's dream come true! 
If you want to feel like a superhero with superpowers, this is the place for you. You will be able to fly high up into the sky while feeling weightless and free as if you were flying on air. You will receive complimentary photos to share with your friends and family.  It doesn't get any better than that!  So, what are you waiting for? Book your adventure today!
Click here now and book your first flight before it's too late!
Kiteboarding
Ready to get your adrenaline pumping?
Kiteboarding is the newest and most exciting water sport to hit the Gulf Coast. It's an adrenaline-filled adventure that will have you hooked from your first ride. You'll be soaring high above the beach, enjoying views of dolphins and pelicans as they swim below you in crystal clear waters.    Kiteboarding is a sport that combines the thrill of surfing with the skill and control of snowboarding. It's an incredible feeling, flying high in the sky on a kiteboard while skimming across water at speeds up to 40 mph! You can even do tricks like loops, spins and flips.
The kiteboard is similar to a wakeboard, snowboard or skateboard but is attached to a large hand-controlled kite that is powered by the wind. You will glide along the beautiful Gulf Coast with beautiful beaches on one side and the ocean on the other.
If this sounds like something you want to try, there are professional instructors available to help! They offer lessons for beginners so no experience necessary! These instructors are friendly and knowledgeable about all things kitesurfing so don't hesitate to ask them any questions before or after your lesson! They can also provide recommendations on where best to go for some good waves or how much time would be best spent practicing at home before coming back out again!  Get ready for one of life's greatest adventures today!
Click here now if interested in taking up this new hobby today!
Horseback Rides on the Beach
 

Ever wanted to ride a horse on the beach?

South Padre Island is the perfect place to get that experience. They have got horses, beaches and beautiful scenery all in one location! You can ride along the shoreline or through our scenic trails. It's an unforgettable experience for anyone who loves horses and nature.

Riding a horse on the beach sounds like something that only happens in movies – until now! Get your cowboy boots on and start your dream vacation for some real Texas fun.   Get your started with horseback riding on South Padre Island today! They have experienced guides who will make sure you have a great time while exploring this wonderful island. Ride away from worries and into relaxation – it doesn't get any better than that!  

Book your tour now by clicking here!
OHV or 4×4 On the Beach
Have you ever ridden on an OHV or 4×4 on a beach?
If not, then you are missing out!  Riding on the sand is one of the best experiences for an OHV or 4×4 enthusiast.  It's also legal in many places to do so. You will be able to experience miles of sand, dunes and coastal plains.
With our help, you'll find out which beaches are open for riding and what type of vehicles they allow. You'll also learn about some great spots that might be perfect for your next adventure with friends or family members. They want everyone who visits this beautiful island to have a memorable experience – even if they don't know how to drive an OHV themselves!
Check out this website now and see where it is legal to ride your vehicle on the beach in South Padre Island today!
Bird Sanctuary & Alligator Habitat
Have you ever wanted to see a gator up close?
The South Padre Island Bird Sanctuary and Alligator Habitat is the perfect place to spend your day. You can see alligators, turtles, birds, and more! It's also a great spot for birdwatchers or anyone who wants to learn about nature.
If you love animals or have an interest in wildlife, this is the place for you! You can walk through the marsh where alligators roam free or get an up-close look at some of their friends like turtles. Plus, they have a beautiful boardwalk that meanders through the wetlands so you can enjoy nature from afar.  They offer guided tours that will make sure you get up close with these creatures of the wild. And if seeing them isn't enough they also offer educational programs so you can learn even more about them. 
Click here now and book your tour today!
Turtle Rescue Center
You're looking for a fun way to spend your day off?
The South Padre Island Turtle Rescue Center is the perfect place. It's an educational and entertaining experience that will teach you about sea turtles, their habitat, and how they can be helped when they need it most.  It's also the perfect spot for kids of all ages! You can touch and feed these amazing creatures. Plus, there are plenty of other animals that need your attention too.  If you have kids, they will love the turtle-themed playground and the interactive exhibits where all of you can learn more about these creatures.
In addition to educating you on the life of a sea turtle, you will see some that need rehabilitation.  You will learn about how they were found and their names.  
Click here to learn more about this center.
Farmer's Market
Looking for a way to get fresh produce and support local farmers?
The South Padre Island Farmers Market is the perfect place. Every Sunday from 11am to 1pm, you can buy locally grown fruits, vegetables, meat, eggs and more. You'll find everything you need for your weekly meal prep or just a quick snack on the go!
Support local farms while getting fresh produce every week at our market!  They have something for everyone – whether you're looking for organic produce or gluten-free options. Come out this Sunday (and every Sunday) from 11am to 1pm and see what they have got in store!
Click here now to find out more about the Farmers Market.
Bar Hopping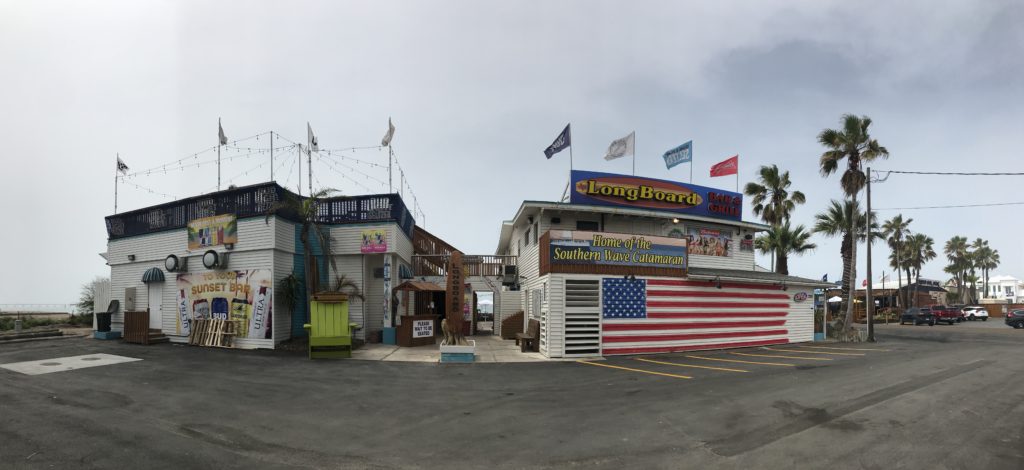 Looking for a good time?
South Padre Island is home to some of the funnest bars you will ever visit. You can find anything from live music, pool tables, and shuffleboard to karaoke, darts, and even bingo! If you're looking for a night that won't be forgotten anytime soon then come on down to South Padre Island.
They have something for everyone while bar hoping so there's no need to worry about not being able to find your favorite type of fun. They have got everything from dive bars with cheap drinks to upscale lounges where you can sip on cocktails all night long. You won't be disappointed here!  Whether it's sports or board games they have it all!  Come on down and check out the best bars around town.
Dining
You're hungry. We know you are.
From seafood, Mexican, and Tex-Mex cuisine to burgers, sandwiches and pizza – you can find just about anything here on the island. And with so many restaurants to choose from, you'll never have to worry about getting bored with your food options.
When you do find one that sounds good, call them up right now! The sooner you eat something delicious, the better off you'll be. There is some great dining on the water on the west and east side.  Just imagine watching the sun set while you eat a great meal with your friends and family.
SpaceX Launch Watching
Have you ever wanted to see a rocket launch in person?
SpaceX Boca Chica is right across from South Padre Island.  The best vantage point is at Isla Blanca Park.  People start lining up early in the morning on the day of the rocket launch.
Can you imagine anything more thrilling than watching a rocket shoot hundreds of feet into the air just to come back down and land?  The current rocket they are testing is the Starship.  It is a rocket that is designed for a mission to Mars.
Be sure to bring a comfortable chair as you may be there for awhile.
Learn more about Starship here.
Water Park
Looking for a water park?
South Padre Island is the perfect place to spend your summer. With their water park, you can enjoy all sorts of fun and games in the sun! There are plenty of rides for kids and adults alike. You'll never get bored here with so many things to do!
The waterpark has plenty of slides, pools, and other attractions that will keep you cool all day long. And with their rides, there's no better way to beat the heat than by getting wet! You can even rent out cabanas if you want some extra shade or privacy while lounging around in the sun. 
Click here to learn more about the water park in South Padre Island.