Basque Chorizo Sausages with a KitchenAid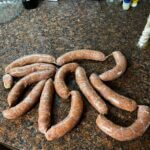 Print
Basque Chorizo Sausage Made With a KitchenAid
This is NOT an 'easy RV recipe' but we wanted to share it anyway. (It's damn delicious!)
Back Story: We're originally from Nevada. And Northern Nevada has a lot of Basque culture. This includes Basque restaurants where this chorizo is typically served as a dinner appetizer or as a breakfast sausage with eggs.
Since we started travelling in our coach, we missed having this amazing dish. The only place that we knew that made it for direct sale was a Basque Deli in Carson City Nevada. They weren't open to shipping us some. So we had to come up with a way to make our own.
Equipment
1 KitchenAid Blender with Grinding Attachment kit

3 big bowls
Ingredients
5

lbs

Pork shoulder or Pork Butt

1

lbs

Pork Back Fat (with no skin)

3/8

cup

Deep Red Wine (Rioja Spanish Red - if you can get it)

3

tablespoons

Kosher Salt

2

tablespoons

Fresh Ground Black Pepper (Fine)

1 1/2

tablespoons

Minced Garlic

4

tablespoons

 Sweet Spanish Paprika (not smoked)

2

tablespoons

Piment d'Espellete or 1 tbsp. hot Hungarian Paprika (not smoked)

2 1/4

teaspoons

Bittersweet Spanish paprika (not smoked)

2

teaspoons

Ancho Chile Powder

1

tablespoon

Olive Oil

12

feet

Sausage Casings
Instructions
Cut the meat and back fat into cubes (approximately 1"). Place into a large bowl

Add the wine and olive oil to the meat mixture.

Mix all the DRY ingredients (spices) and the garlic in a small bowl. Then mix into the meat.

Put the bowl into a freezer for 2 hours. Also put the grinder attachment and all the grinder parts into the freezer for 2 hours.

AFTER 2 HOURS:

Attach the grinder system to the Kitchen Aid. Your meat is partially frozen. Stir it around in the bowl and then grind it with a medium grinder plate into another bowl. We found it useful to do 1/2 the bowl at a time, leaving the second 1/2 in the freezer to stay cold.

After grinding, put the meat back in the freezer for30-40 minutes.

Setup the grinder for the stuffing portion of the project.

I highly recomend that you watch a couple Youtube videos on how to do the stuffing. This will make you nice and nervous as we were when we first tried this. But you'll find that it's actually not that hard.
Notes
These sausages freeze really well.  But if you won't freeze them, cook and serve within 3 days.
*   I say that the cost is about $15.  HOWEVER - since many people don't have the spices listed, your original costs could be double.  But you'll have enough spices to make several batches.