Newberry National Volcanic Monument in Oregon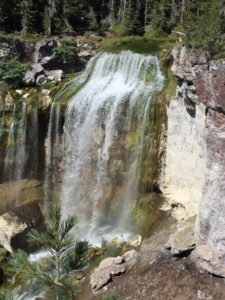 Newberry National volcanic Monument is located in the Deschutes National Forest in Oregon.  The closest city is La Pine, Oregon.  The monument was created in November of 1990.  It consists of more than 54,000 acres of lava flows, lakes and other geological features.  Paulina Peak is the highest point in the monument at 7,985 feet with a road leading to the top to get spectacular views of the area.
The two main lakes are Paulina and East Lake both of which offer great fishing, kayaking and other recreational things.  Some people call is a crater when it really is a caldera.  A caldera is formed due to the collapse of the rock that is over an empty magma chamber.  The caldera covers 17 squares miles in the middle of the volcano.  It is considered an active volcano because there is still some geothermal and seismic activity.
Campgrounds
There are four main campgrounds in the Newberry National Volcanic Monument:  
Cinder Hill Campground is the largest and is located the shore of East Lake.

 

There are many spots that are near the shore, but the rest are walking distance.

 

East Lake Campground is also on the shore of East Lake with the majority of their camp sites right near the beach.

 

It is said that East Lake provides more shade than the other lakes.

 

Little Crater Campground is located at Paulina Lake and had large campsites, so it is good for tents, trailers and RV.

 

This is one of the most popular campgrounds and fills up pretty quickly.

 

There is also a boat launch that is used year-round.
Paulina Lake Campground is the first campground as you enter the caldera.

 

There is a trail that goes all around the lake and the hike to Paulina Falls is a short one.

 

The boat launch area fills up fast with fisherman starting their day as early as 6AM.

 
Interpretive Areas
Newberry National Volcanic Monument has several interpretive areas to explore:
The Big Obsidian Flow is considered the youngest lava flow in the state of Oregon.

 

It is only 1300 years old and offers a one-mile trail that goes up to and onto the lava flow of obsidian.

 

Obsidian is a black glass that was popular with the local Indians to make arrowheads and use for ceremonies.

 

It is illegal to pick up and take pieces of the obsidian off of this area because it is part of a national monument.

 

The Lava River Cave Interpretive Site has self-guided tours in its mile-long lava tube.

 

To access it there are 55 stairs going down to the cave.

 

It can take up to 1.5 hours to tour the approximate 2.2-mile roundtrip hike.
The Lava Butte is considered a cinder cone that is 500 feet above the Lava Lands Visitor Center.

 

There is a trail that goes around the rim of the cone offering amazing views along the way.

 

There is a time limit on each vehicle of 30 minutes because there are only ten spaces to park.

 

There is a Fire lookout and visitors are encouraged not to engage with the staff.

 

Lava Cast Forest Day Use Interpretive Site has brochures available for self-guided tours.

 

There are tree molds and lava flows.
With an elevation of 7,984 feet, Paulina Peak is an amazing place to view the caldera.

 

If the sky is clear, one can see to Mt. Shasta in California and Mt. Adams in Washington.
Fishing
The two main lakes offer great fishing year-round:
Paulina Lake's deepest point is 250 feet.

 

There are four different seasons for the fishers, summer, fall, spring and ice-out.

 

Each season offers the change to catch a different type of fish such as kokanee are caught primarily in the spring.

 

During the ice-out season, angers tend to catch the big browns.

 

Fishing from the shore, fisherman tend to catch rainbows and large brown trout.

 

East Lake is smaller than Paulina Lake and is a great place to fish.

 

It's water mostly from rain fall and snow fall.

 

The lake is stocked with Atlantic salmon, sockeye salmon.

 

It also has rainbow and brown trout.

 

There are boats to rent for those who want to get out in the middle of the lake but don't have a boat of their own.
Newberry National Volcanic Monument is one of the most popular places in Oregon to camp or day visit.  It is only 35 miles from Bend, Oregon.